We Are Looking For Experienced Drivers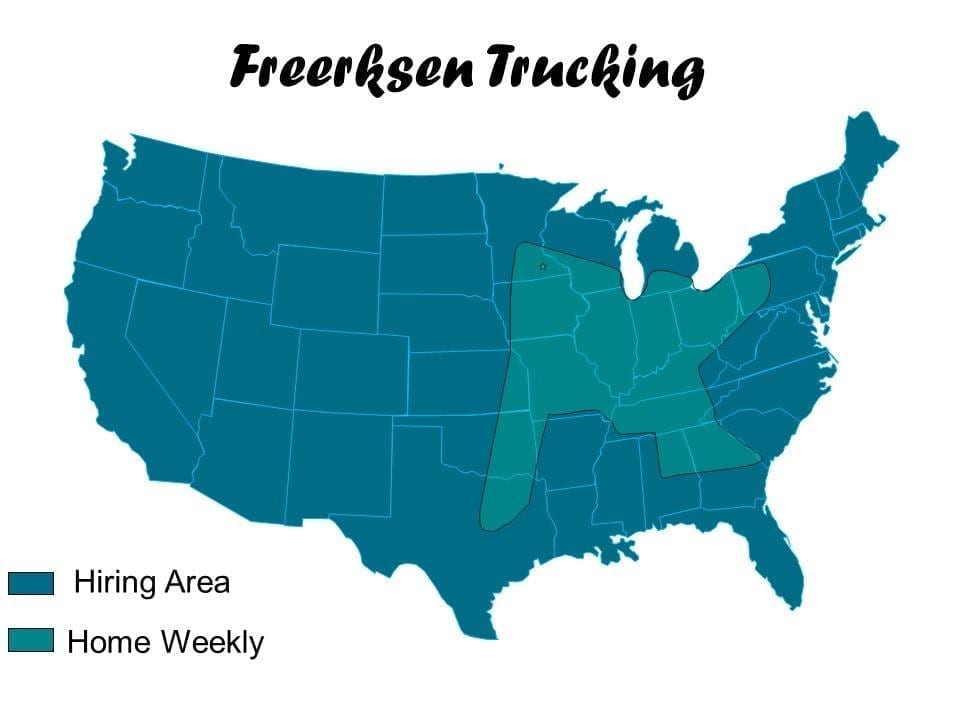 Freerksen Trucking, Inc. is looking for experienced
OTR Lease Purchase Drivers to join our team.
Qualifications for Owner Operators/Lease
Must be at least 24 years of age
Minimum of 1 year of recent driving experience
No major violations in the last 3 years
Good work history, no more than 2 jobs in the last 12 months
Must pass a DOT Drug Test and have a valid DOT Medical Card
Owner Operator/Lease Compensation
76% Load Pay
100% Tarp Pay
100% Fuel Surcharge
Free fuel tax reporting
No charge for pulling our trailers
Fuel card supplied with fleet discount available
80%+ Customer Freight -very few broker loads
What are the set costs for Lease Purchase?
Truck Payment $600-$750
Fuel
Insurance $2500 to $5000 a year (paid $200 a week until paid)
Plates $1800 a year (paid $100 a week until paid)
Heavy Use Tax $550 a year
Do the trucks come with a warranty?
Our trucks are sold as-is. We do have all of the repair records for the trucks, we have owned them since they were new and we have a full service shop. All of our trucks sold go through a safety inspection before they are put into the lease program. 
Is there a ballon payment? 
No, after the last payment the truck is yours.
Do you provide the required equipment? 
When it comes to the required flat bedding equipment you have a couple of options. You can buy it from us, (make payments) you can bring your own or you can rent the equipment. 
Is is forced dispatch?
No, every load is ran by you for approval before they are booked. 
What trucks do you currently have available?
Keep scrolling for a list of our current trucks available for lease. 
What does the average Lease Purchase driver make?
You are paid 76% of the line haul. It will vary depending on what you are hauling, extras like stop and tarp and where you are running. Add to it that every driver is a little different it is hard to come up with an average that is accurate. The driver is

Available Lease Purchase Trucks
Truck 1013
2020 Peterbilt 389
13 Speed Manual
Cummins Engine
Bunk Heater, no APU
Refrigerator
Truck 1006
2019 Peterbilt 579
13 Speed Manual
Cummins Engine
Bunk Heater, no APU
Refrigerator
Own your truck in as little as a year
We value your home time, most of our drivers are home every weekend.
We are a growing Minnesota-based carrier looking for drivers along our major routes with an
excellent customer base that keeps you rolling
Must have 1 Year OTR or Regional Experience & Good Work History (no more than 3 jobs in the last 12 months)
76% of load pay pulling our trailer with no trailer rental
100% of Fuel Surcharge

100% Tarp pay

90% Drop pay

No hidden fees

Base Plate Program

1 – 5 year terms (Your Choice)

Fuel Cards Supplied (Very good fleet discounts available)

Optional Escrow Available

Option to drive the truck as a company driver to try it out as long as you would like 

Also looking for company drivers starting up to .60 cpm plus quarterly fuel/safety bonuses!
---
Contact Chris or Abbie via Facebook Chat, email: chrism@freerksentrucking.com or 507-633-6279 
or complete an online application here